Social Activities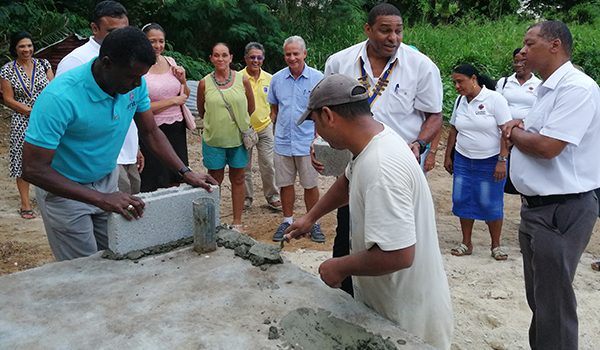 Published on August 24th, 2020 | by admin
0
The St Raphael Youth and Enrichment Center kicks off (24th of August 2020)
After some delays due to Covid 19, Immediate Past President George Bibi proudly placed the first 4 inches block.
Then, our President Vincent Hoareau was happy to place the second 4 inches block to express the full support of the club members behind the project.
A very interesting project financed partly by Caritas and Coco De Mer Rotary Club.
Indeed, the center will be a hub for the youth after school, where a mix of possibilities will be offered to them:  social games, music, sport, access to internet, assistance of educators for helping in homework and studies, etc, without forgetting the spiritual aspect; keeping the youths away from social illnesses.
Among the sponsors, so far, P and G, Sahajanan builders, Sliding Aluminium Windows and Doors, etc. One can note that Rotarian Harish is generously involved through his company Dijan Construction. The sponsors names will be officially published on the "wall of the sponsors" at the Center. Do not hesitate to be part of them, to assist your community and why not, join the Coco De Mer Rotary Club for further community projects.