Activities & Events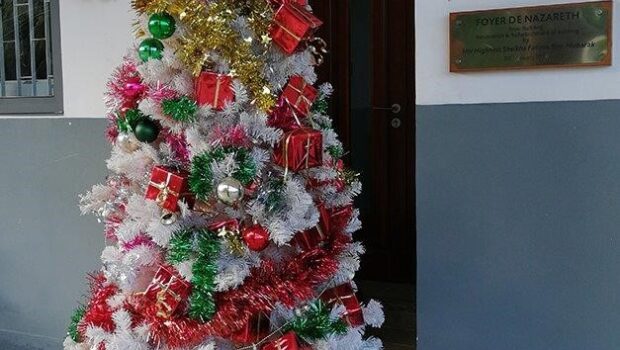 Published on December 23rd, 2021 | by admin
0
Rotary Coco Der Mer Brings Christmas Cheer
With the holiday season upon us the Rotary Club Coco De Mer, through the generosity of its members and benefactors, brought smiles to the boys of Foyer De Nazareth by sharing a special afternoon with them. Having struck a relationship with the Anse Etoile based orphanage which houses boys between the ages of 4 and 16 the club members were visiting the facility for the fourth time this year, but this time bringing with them Christmas cheers.
Some members arrived before the gathering to plant a proud Xmas trees, which gave quickly a touch of Xmas.
On arrival at the facility Rotary Coco Der Mer members interacted with the boys who have now become familiar faces. Shortly afterwards the club's President Lucille De Comarmond gathered everyone together and shared the greatest news of the day, the club had brought Christmas gifts for each of the boys. She took time to call each of the boys individually to collect their gifts much to the applause of the gathered Rotarians and the staff of the facility. The heartwarming ceremony was punctuated by the beaming smiles of gratitude from the boys who appointed one of them to be a spokesperson and he did a great job with his thank you speech on behalf of all the boys.
To add to the day, the club had identified a need for benches in the boys' library and had gone further by procuring a set of benches to be used in the library. The donation of benches was also officially presented by Club President, Ms De Comarmond adding to the festivities of the day and much to the delight of the boys.
Also present to add more cheer to the boys was Mr. Terence Madeleine, a regular visitor to the orphanage who brought even more gifts for the boys. It was a pleasant day for the boys and indeed Christmas did come early on this beautiful Sunday afternoon.
The day ended with pizza, French fries, chocolate cake, lemonade and movie evening shared by the boys and the Rotarians together with Mr. Madeleine. The boys were treated to the movie 'Polar Express' a befitting Christmas treat. It was such a heartwarming sight to see the boys huddled up in front if their TV enjoying the movie and the dinner.