Activities & Events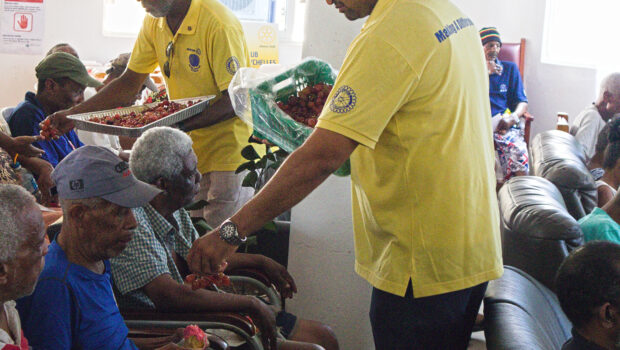 Published on February 19th, 2023 | by admin
0
Rotary Club – Coco de Mer Spreads Love to the Elderly 
The Rotary Club of Victoria Coco de Mer is pleased to report on the recent activity where they spent quality time with the elderly at the North East Point Home of the Elderly.
It was a wonderful event where the club members and their friends provided entertainment and light refreshments to both the elderly and mentally handicapped within the facility. This event was a great way to showcase the club's mission and support for the community, particularly those who may feel lonely and isolated in their everyday lives.
The highlight of the event was the music performance by Emmanuel Marie, a legendary musician and inspiring figure in Seychelles. The attendees were thrilled to be serenaded by his soothing voice, and the positive energy was contagious. The music lifted the spirits of everyone, and it was heart-warming to see the attendees on their feet dancing while those who could not get up were tapping their feet and singing along to the tunes. It was an incredibly heartwarming experience where the club connected with the residents of the home and shared some moments of joy with them.
In addition to the music, the club members provided light foodstuff and snacks to the elderly, which they appreciated greatly. They also took the opportunity to interact and socialize with the attendees, which was rewarding for both parties. It was a joy to hear their life stories and experiences, and the club members were glad to offer a listening ear and some companionship.
The club takes the opportunity every year around Valentine's Day to bring love and comfort to the residence of this facility through this meaningful gesture to show our support for those who often go overlooked in our community. The club is committed to making them feel appreciated and valued, and judging by the smiles on their faces, we believe the club was successful in doing so.
As a Rotary Club, the Rotary Club of Victoria Coco de Mer is committed to making a positive impact in our community and the world at large in line with the international mission of Rotary International. This event is just one of the many ways in which we the club is fulfilling that commitment. Their belief is that by connecting with the people in our community, the club can make a real difference in their lives.
If you would like to learn more about the Rotary Club of Victoria Coco de Mer and our community activities, follow us on Facebook www.facebook.com/RCVcocodemer or Instagram https://www.instagram.com/rc_coco_de_mer.