Activities & Events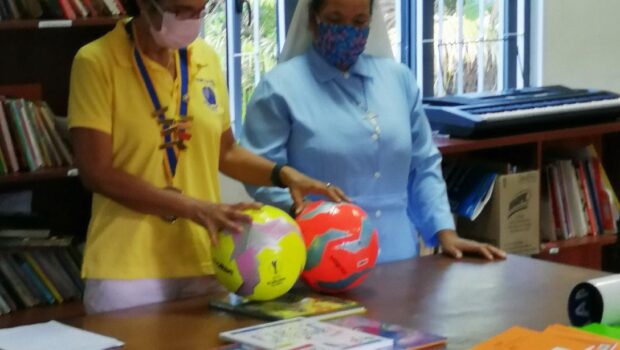 Published on September 25th, 2021 | by admin
0
Rotary Club Coco De Mer Donates Books to Foyer De Nazareth
As part of its ongoing mandate to contribute to its surrounding community, the Rotary Club Coco De Mer donated children's reading books and educational materials (exercise books, pens, pencils ect..for the new school term)  to Foyer De Nazareth, the Anse Etoile based orphanage which houses boys between the ages of 4 and 16. This community event coincides with Rotary International  monthly theme "Basic  Education and Literacy".
Rotary Club Coco De Mer President, Lucile De Comarmond handed over the donation to Sister Jeanine and Sister Romina in front of some of the children. The President addressed the children and shared some inspirational and motivational words to encourage them to read and study to better their prospects of success in the future. The message was warmly received by the children and all who were present. Also, in attendance were several members of the club who spared their Saturday afternoon to attend the ceremony.
Following the donation, the children were treated to some ice cream by the members of the club who also took time to interact with them in a social and informal setting. The game of table football proved very popular among the children and the attendees as part of the interaction and social engagement.
The Rotary Club Coco De Mer has been contributing to the community since its inception in 2013 and its members live by the true values in their drive to transform communities. Each day, members of the club pour their passion, integrity, and intelligence into humanitarian projects that have a lasting impact. The aim is to deliver real, long-term solutions to the issues our communities face. The club is part of a global network of 1.2 million neighbors, friends, leaders, and problem-solvers who see a world where people unite and take action to create lasting change.
The club is currently on a drive to encourage others professionals and business people to join its worthy cause by becoming members of the club or supporting their noble activities.
The accompanying photos show highlights of the event.