Archive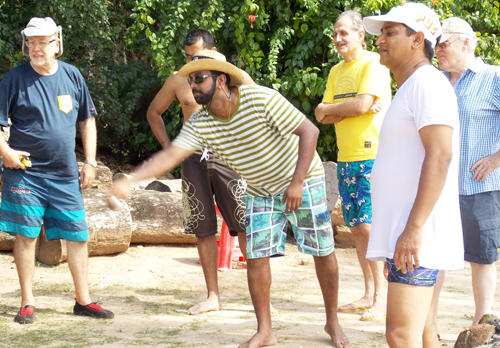 Published on November 17th, 2013 | by admin
0
Petanque contest between the two Rotary Clubs at Moyenne Island !
On the 17th of November 2013, the Rotary Club of Victoria organized a lunch at Moyenne Island and Rotarians from the Rotary Club of Victoria and from the Rotary Club of Victoria-Coco De Mer gathered in company of DG Jean and his partner Lady Josiane, PDG Bertrand and ADG Bernard and his partner Cecile.
During the day, both clubs set up their Petanque team and decided to challenge each other. The pictures hereunder give a good testimony of the seriousness of the contest!
For the records, the Club of Victoria- Coco De Mer started very well and won the first set; nevertheless, the Club of Victoria came back very well in the second set and finally the Club of Victoria won the contest 2 to 1.  Congratulations!
PDG Bertrand Miclo played with the Victoria-Coco De Mer team, but his expertise was not sufficient for reversing the results.
The Rotary Club Victoria-Coco De Mer is only waiting for the next opportunity to challenge its sponsoring club in another game!