Archive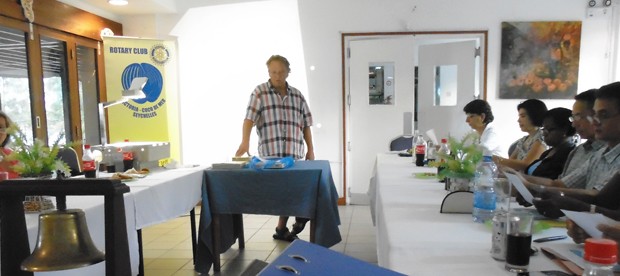 Published on August 14th, 2013 | by admin
0
Guest Speaker 2. Synopsis
Kinesiology:    "Being well, by using the power of our brain"

On the 8th of August 2013, the Rotary Club of Victoria had the privilege to welcome
Mr. Francois Robert as guest speaker.
Mr Francois Robert is from Vevet in Switzerland; when in Seychelles, he resides at the fond du sac at Anse Poules Bleues.
Mr Robert firstly pursued scientific studies at University, obtained the Aggregation, and for 23 years he was teaching is different high schools and  polytechnic establishments  in Switzerland.
In 1992 as he became interested by the alternative energy medicine, "parallel medicine", he discovered the technique "touch for health" and he became passionate with the potential of it.
He found out that human brain records all the events of the past of the individuals not only from the childhood but from the past generation -heredity-.  Some events have been prejudicial to the person and have damaged or blocked circuits of neurons, which end up by causing sicknesses.
He became really indulged and passionate about the reality of the exchanges with the brain and he started to establish a detailed grammar for the brain.
He created an Institute of Kinesiology in Vevet in Switzerland and deliver classes whose subjects are based on the Brain Reinstatement; so far, more than 300 kinesiologists has been formed and educated to his methods and are practicing it on daily basis.
Beside the novelty aspect for most of our members, his presentation in French was a further brain challenge !  for those who do not practice French regularly.
For knowing more about it click, on the Rotary Wheel or go to the Institute Website http://www.seveline-kine.ch/