Activities & Events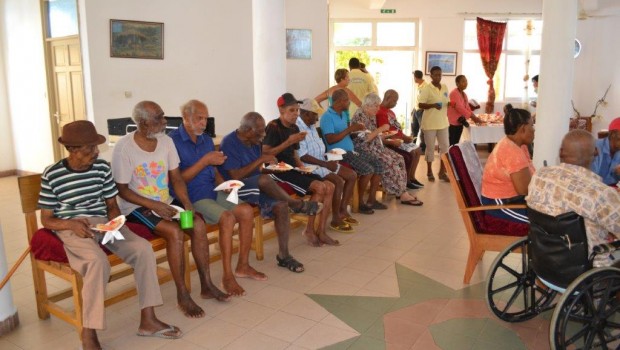 Published on February 17th, 2016 | by admin
0
Rotarians commemorate Valentine's Day by spreading love and kindness at North East Point Home for Elderly
The Rotary Club 'Coco de Mer' on Saturday 13th February reminded us that Valentine's Day is not just for couples and that it is the perfect occasion to also show love and kindness towards others, more precisely the elders of our community.
On the eve of Valentine 's Day, a group of 11 Rotarians and friends had turned up on Saturday afternoon at the North-East Point Home for the Elderly armed with refreshments and snacks, with the sole purpose of spreading love and bringing some joy to the occupants of the home.
The team present entertained the elders through music, games and shared Valentine's Day treats during a small reception held at the main hall of the home where they were also joined by some patients from the Rehabilitation and Psychiatric Hospital, located in the same establishment at North East Point.
To officially launch the activity, Lucile de Comarmond, who is also the Club Director for Community Service, thanked the Management and Staff of the Home for welcoming the Rotarians once again and for giving them the opportunity to spend time and share the Valentine's Day treats. "We are encouraged by the heart warming smiles on the faces of the elders and patients in knowing that we managed to bring some joy and reminded them that they have not been forgotten"
On behalf of the Home the Nurse Manager Mrs Desir, thanked the Rotarians for their continuous support and generosity and for taking time out of their busy schedules to come visit residents of the home.
The Rotary Club 'Coco de Mer' Valentine's Day activity, now an annual event on the Club's Calendar, has again pledged their support to come back next year to lend their support to the North East Point Elderly Home.